Listening to: Courtney Barnett, Live at Newport Folk Festival
As this adventure took shape and became a reality, there was one place that Jess definitely wanted to go to: Moab, Utah. I had never heard of Moab but I was obviously along for the ride. Driving from the Southwest corner of Utah, to the Eastern border of the state was a stunner in and of itself. The twists and turns of large highways are nestled in between large red-faced mountains and canyon drop offs. With multiple vista viewpoints along the road, we got to stop along the way a few times to stretch our legs and take in the land we were driving through. The approach to Moab is flat and straight with mountains in the distance, reminiscent of the drive into the Badlands, your excitement sort of bubbles up in anticipation. Following a bend in the road, suddenly you are staring at large red cliffs of natural sandstone. Passing by the entrance to the park we continued on the road, passed through the downtown of Moab, and arrived at our next home base, Moab KOA.
Up until this point, I had never stayed at a KOA. In actuality, I had barely even camped in my lifetime. I grew up spending summers in Southold, New York. A beach bum, my summers were filled with sand, salt and sunsets. Our family vacations were spent in hotel rooms. I did have a quick jaunt at sleep-away camp in New Hampshire, but I don't think that can really count as camping. That is how I feel about our stay at the Moab KOA. Knowing the days are long and hot, we booked ourselves a camping cabin. A quaint sleeping cabin with one queen bed, a bunk bed, a front porch complete with porch swing, charcoal grill and fire pit. With electricity and AC our little camping cabin was just perfect. Camping without the tent. Divine. For those of you have never heard of or stayed at KOA, I suggest finding one the next time you want a little camping experience when you travel.
Arriving in the late afternoon, we settled in, did some work and then headed into town for dinner. The main strip of Moab is maybe a mile long and is lined with hotels, restaurants and tourist shops. Randomly, a friend of mine happened to be driving through Moab at the same time as Jess and I, so we met up for dinner at Zax Restaurant. Zax has a pub-like feel with dark wooden floors and serves extra large beers for your drinking pleasure. Jess and I both ordered the BLT and were very delighted. One of the best BLTs I have had in a while. As a side bar, BLTs were sort of the meal of our trip; I think we may have ordered one in almost every place we stayed in. A classic, a BLT is always a good idea. Zax was a great place to eat in Moab. A great time had catching up, we headed back to our KOA and got some rest; we would go to Arches National Park the next morning.
Waking up the next morning, we snoozed a bit longer than we should have. Getting ready for our Arches adventure, we were undecided on what trail would be the best to hike. Also, as the sun gained height and heat, we were hesitant to do too much strenuous activity. Mindful of the heat wave going on in Utah, we didn't want to be hiking in direct sun. After a bit of deliberation, we decided to venture to the Windows Trail in Arches. Saying goodbye to Lennon (dogs are not welcome in National Parks), we hopped in the car and after a short ride, we were entering Arches National Park. The entrance sits at the bottom of large sandstone cliffs. As you drive into the park, you follow a winding road and after a turn, you are gazing upon some of the most remarkable rock formations. Carved over millions of years, massive red rocks stand paramount. Each unique, it is like witnessing Mother Earth's curated rock collection. Awe-inspiring, the colorful, curved, arched formations welcome you as you drive through. Heading North to our destination, I sat shotgun and snapped photos, hoping they would do this beautiful landscape justice. Arriving to the Windows Trail, we saw in the distance two magnificent arches standing adjacent to one another. We quickly realized this "trail" was more of a guided pathway. With our hiking boots laced up and our packs filled with sustenance, we felt a bit overdressed for our 'hike'. Although this trail wasn't going to be like that of Zion National Park, the views were spectacular and we got to enjoy the arches up close. We climbed all over them! Thankful to have my boots on, Jess and I went 'off-roading' and scaled sections beyond the "THIS IS NOT A TRAIL" sign that was submerged in the rocks. We came upon large boulders, which we climbed with concentration and grace. Finding a nice perch, we sat ourselves in divots in the red rock.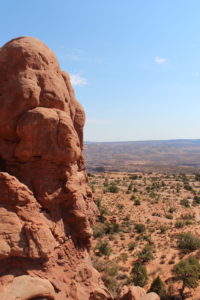 High above the crowds, we sat and took in the scenery. Checking our emails, we agreed that this 'office' wasn't too shabby. We enjoyed some trail mix, some good conversation and then decided we should see what else this section of the park had to offer.
Heading across the way, we came upon another large arch, which we also climbed! More crowded than our previous spot, we found a section that was less populated and had another sit session. Suddenly a girl, wearing a sundress with bicycle shorts (so on trend) came barreling up the rock-face. Shuffling right by us, this girl was wearing no shoes and we were quite alarmed by her daring nature, but mostly were concerned for her safety. Prompting us to say, "We don't think you should go any further up there", pointing up beyond us. With a jolt of her head, she whipped around and proclaimed, "My mom said I could!" and continued, catlike, up the rock. Stunned, we kept an eye on her and were comforted when she decided to sit about 5 feet away from us. I guess she wanted to win this little climbing game everyone was playing on the rocks. As the girl headed back down the rock, Jess and I decided to descent with her. Our adventure had, and hungry for (yet another) BLT, we got back into the car and headed to town for lunch.
We stopped into a café. Jess ordering a lemonade, and me, an iced tea, we unwound from our morning and readied for our Bacon, Lettuce, and Avocados. A lovely swap out for the "T" an avocado gives your sandwich a nice creaminess. After lunch, we headed back to the KOA to do some laundry and take a dip in the pool while we waited (yes they have a laundry room and pool – delightful). After the pool, we decided to do a bit of grocery shopping and grill out by our cabin for dinner. Chicken and veggies on the menu, we sparked up our charcoal grill with ease and set our picnic table for a great dinner under the pink dusk sky. I can't say enough pleasantries about our Moab KOA. Our night under the Utah night sky was perfect; card games, a few beers, and a makeshift lantern that I made with a clear solo cup, a mound of paper towels and a flashlight. Innovation at its finest! As the night continued on, we readied for bed and looked forward for our next stop: Dillon, Colorado.