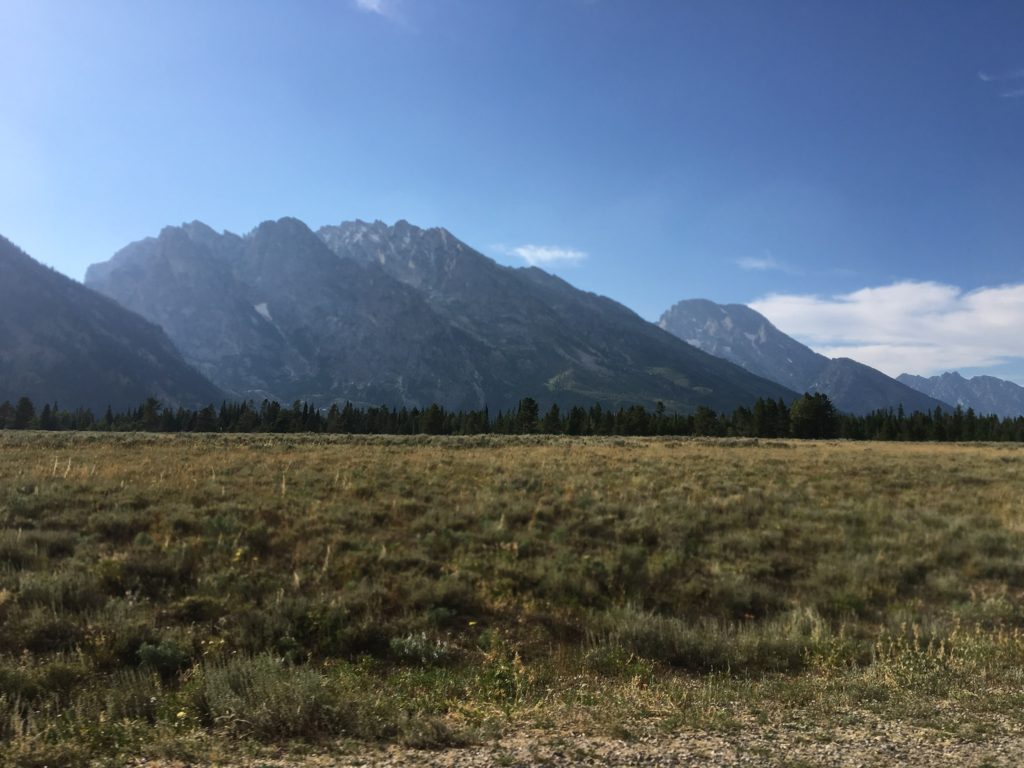 Location: Moab KOA, Moab, Utah
Listening to: Most of All – Brandi Carlile
Time: 6:17 pm
Lets go back to Jackson. This statement is meant to start a flashback of my experience there and also signifies a promise to myself – you must go back to Jackson, Wyoming.
The Grand Tetons are one of the most magical places I have ever been (no offense Disney World). Their natural beauty is transcendental. Massive mountains are the backdrop to this stunning National Park. Their smoky grey/blue appearance as you drive by stands paramount against the flat landscape around them. One thing to note: we almost didn't get to experience these majestic beauties fully. Leaving Montana, we were heading to Dubois (pronounced Dew-Boyz), Wyoming. "The perfect location for your discovery of The Grand Tetons" is what our Lodge and RV camp promised. What we were given? A two hour drive East of Jackson and The Grand Tetons. Arriving late in the afternoon to Dubois, we were a bit put off by our out of the way lodging. Only having two whole days in the area, time was precious. Wanting to lodge closer to Grand Tetons, we marched into the check-in clerk at our Lodge and informed him of our room cancellation due to the far location to the Grand Tetons. The clerk, agreed (Jess and I think this happens a lot) and offered a full refund with a cost of one night's fees. Obviously exhausted and hungry from our travels, we would stay the night and leave early the next morning for our newly booked home at The Inn at Jackson Hole in Teton Village. As a side bar, the Longhorn Ranch Lodge & RV Park in Dubois was very cute and was right on the Wind River. If you ever find yourself in the area, this is the place to stay. The place to eat: Nostalgia Bistro in town. The Nostalgia Bistro is a family restaurant in the heart of town (which looks just like a movie set from the old west) with home cooking and friendly service. Jess and I opted to sit at the bar and had great conversation with the manager/bartender, Ashley. We tried some local beers on tap, and had HANDS DOWN my favorite meal of our trip. Discovering my new favorite restaurant was great! Inconvenient; but glad to add Dubois, Wyoming to my 'must return' list.
The next morning we were up early to enjoy our free breakfast and to hit the road. We drove back West through rolling mountains and blue skies. As we passed through Grand Tetons we came upon a Moose! Excited to Instagram Live the run-in, we popped out of the car to get a closer look. Mr. Moose got his time in the spotlight, got camera shy, and ran away. Stoked off our wildlife spotting, we continued to Teton Village. Located at the bottom of a mountain, Teton Village is a charming little area with plenty of restaurants and shops. Settled in, we grabbed some lunch (BLTs) and decided to go kayaking on Jenny Lake. Located in Grand Teton National Park, Jenny Lake is situated South of Jackson Lake and is the first area in Grand Teton National Park that was developed for recreational use. This serene lake lays at the foot of peaked mountains that create a peaceful environment for any sort of boating activities. With a friendly send off from the kayak dock, we paddled out of the inlet in our two person kayak to explore Jenny Lake.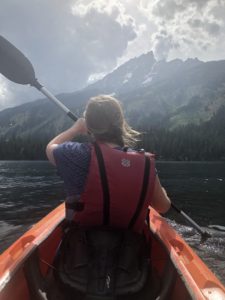 We set off for the mountains in the distance. The shore would be our destination. Synchronizing our paddles, we made our way across the dark waters watching the water rush along with our strokes. Resting our arms, we floated in the middle of the lake and all the tension seemed to ooze out of my body. Jess and I giggled with delight from our serenity and unconditional love for Jenny Lake. Our eyes shutting, we relished in the quiet lapping of the water against our kayak. The clouds seemed to dance around the sun and pockets of shade were welcomed on a hot summer afternoon. Determined to reach the foot of the mountains, we began to paddle again. Coming ashore against some rocks, Jess hopped out of the kayak and tethered our kayak to a fallen tree. I, too relaxed to move, remained in the kayak and rocked slowly with the small waves hitting against the rock-lined shore while Jess remained on land, perched on a log. With a backdrop of trees ascending up the mountain we rested once again, taking in the sights, sounds and smells of this beautiful park. As the wind picked up and the afternoon pressed on, we reluctantly paddled back to the dock.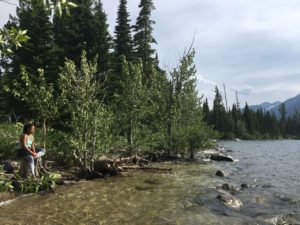 Not ready to say goodbye to Jenny Lake just yet, we found a path and ventured down towards the lake's edge. Finding a large rock wading near the shore, I decided this would be my post. Sitting legs crossed I took a mental picture of Jenny Lake and made sure to appreciate the tranquility that I felt. Eventually, the rumbles of hunger from our stomachs prompted our return to Teton Village. For dinner we popped into Old Yellowstone Garage in Teton Village. OYG is well designed with a nice upscale atmosphere. Wanting something hardy, we both ordered a rabbit pasta dish. It was delicious and exactly what we wanted. We ended the night with some beers and great conversations with some locals.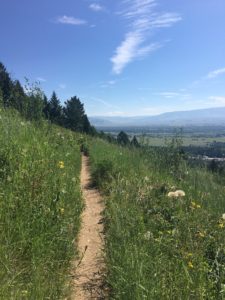 Waking up the next day (July 23rd), we logged some work and then suited up for a hike. Having a number of trails in Teton Village, we set off for the Wildflower Trail, a trek that would take us up to 9,000 ft and where we would catch a ride from the Teton Village gondola back down. The trail was green and as you may have guessed, populated with wildflowers of different colors and species. Steep at times, we relished in the shaded areas where winding switchbacks continued our incline. Our legs burning, chests rising and falling in staggered breath, we were steadfast in our journey. Passing a young family my new hiking motto was attained; The young son held his walking stick up in determination and reminded us that "each step is one step closer to the top". Thank you kind child! This saying along with "just keep hiking" (in the tune of Dori from "Finding Nemo") were powerful fuel to finish our hike. 2-1/2 hours later we reached the summit – rejoice! High-fives all around! Resting our legs, we found a shaded spot to sit on the ground and enjoyed a victory sandwich. Sitting at the top of the mountain, the feeling of accomplishment radiated from us. Cooled down, we boarded our gondola and sped down the mountain peering out onto the very paths we traversed.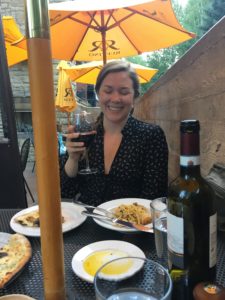 Having showered and rested, we set off for dinner at Il Vilaggio Osteria, an Italian restaurant in Teton Village with outdoor seating. Ravenous from the days activities, we ordered a burrata to start and for our entrees, we split a personal pizza of cheese, figs & pancetta and a sage butter sauce pasta with shrimp and guanciale. Of course, we paired these delicious dishes with a bottle (or two) of red wine. Heaven. If you haven't noticed yet, I am a foodie and LOVE a good bottle of wine with a carbo-loaded meal. Simple pleasures. The perfect ending to a perfect day. We clinked our glasses and toasted to Jackson and our next stop, La Verkin, Utah and Zion National Park.