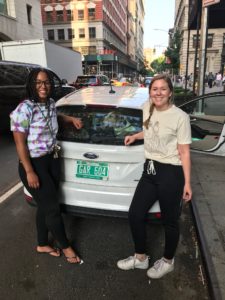 Location: Quakertown, Pennsylvania
Listening to: "I Will Always Love You" by Whitney Houston
Time: 8:57 pm
So we made it to Pennsylvania! Tonight we are driving to Pittsburgh for a "pitt" stop. Jess, Lennon and I left NYC ahead of schedule – go us! We started our trip with a special goodbye from my Aunt Dede. For those of you who don't know Aunt Deed you're missing out. For those of you who do, know how special of a person she is. You may also know what a big fan of care packages she is. Well, today was no exception! Aunt Deed sent us off on our journey with a care package filled with necessities and goodies. We have already broken into the Club Crackers. Now, driving with the windows down, listening to 90s pop radio while belting out tunes, I am looking towards the road ahead with anticipation, curiousity, and excitement! What lies ahead is unknown. Bring it on.