It's 5 a.m. and Jess' alarm blares into the silence of the morning. We wake up, crusty-eyed, and groggy. We both sigh, longing to remain asleep, but hop out of bed knowing that we have a long day of travel ahead of us. On the agenda: a 13 hour car ride from Dillon, Colorado to Olivette, Missouri. Another one of Jess' cousins kindly offered to put us up for a night, as we journeyed farther East to Louisville, Kentucky. Having packed the car the night before, we readied ourselves and Lennon for the road. As the sun began to rise, we pulled out of the driveway and waved goodbye to our Colorado 'home'. As we drove East, our July 30th began with the beaming orange sun rising over the quiet Colorado suburbs. Its striking rays shone over the windshield and was a bright beacon of the travel East.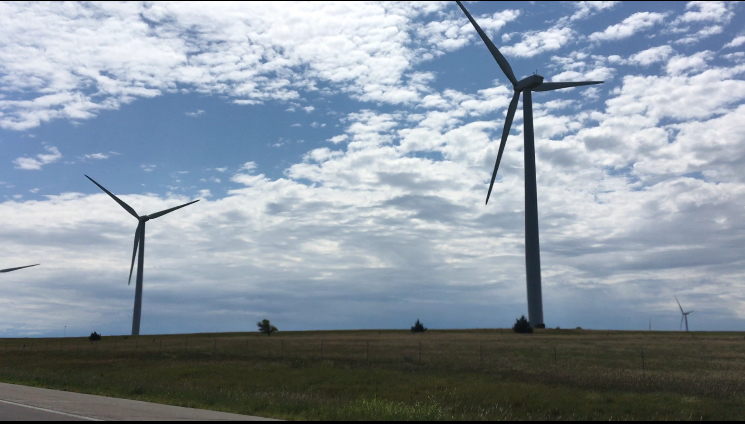 Our drive would take us through Colorado, Kansas, and Missouri. As Jess drove, Lennon and I took a nap. I needed to rest up for when it would be my turn to drive in a few hours. Having snoozed for a bit, I woke up as we were nearing the state border of Colorado. I readied the camera. Jess and I had sort of a 'crossing border lines' ritual by this point in our trip. Whomever was not driving would be in charge of snapping a photo, or video of the "Welcome" sign of each state. You can learn a lot about a state just by glancing at its sign. Whether it be the shape of the state, or include the state flower, or animal, each sign was different and unique. Some states were better than others, of course, and we were eager to see what Kansas had to offer. My recollection is a bit foggy, as I am writing this post on the last day of October 2018, but if I remember correctly, I completely missed the photo-op with the sign. Maybe I was too eager, too ready; I captured a snapshot of some fields and a blurred out shape that one could maybe see was a sign. From the drivers seat, Jess' disbelief and disappointment in my skills were impossible to ignore. We laughed it off, as what could be so exciting about Kansas anyway. Now, I don't want to offend anyone, but coming from New York I had honestly been dreading this part of the drive. Never having been to Kansas, I assumed there would be never ending, flat fields that would bring boredom and dullness. To my surprise, Kansas wasn't so bad!
The bright blue skies met with rolling green and yellow fields scattered with farms. Large wind turbines lined the horizon throughout our drive. There is something majestic about those massive, white structures. Their constant, even, swirling look so delicate yet they are humungous masses of innovation. I gazed upon them with wonder as we drove and discussed life, men, work, and other mundane twenty-something chatter.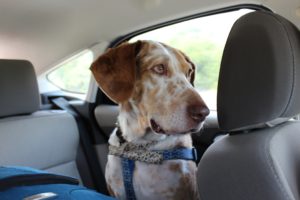 This drive was going by quickly and I realized I was dreading Kansas for no reason at all. Approaching the Eastern side of the state, the weather began to change, and so did our nonchalant discussions. We both had immediate flashbacks to "Twister", a movie where Hellen Hunt chases twisters (go figure!), and we began to panic. None of us, including Lennon, wanted to witness a cow flying by our car or a giant swirling wind cyclone in the distance. Ahead of us were dark clouds and as we continued our drive intermittent bouts of rain would pound against our windshield. By this point Jess was at the wheel again so I was on duty to research tornadoes. Fun fact: if caught in a car during a tornado and there are no structures around you, you do not stay in the car, you do not shelter in or beneath a bridge and you find a low lying ditch for safety. Yes, a low lying ditch is your shelter. As I read the 'tornado plan' to Jess, both of us agreed that laying in a low lying ditch for safety was bullshit and hoped we wouldn't have to partake in this escape plan. As we continued our drive, watching the ominous, dark clouds above us, we sharpened our meteorologist skills and hoped for the best. Quickening our pace, we whizzed through the inclement weather and as we approached Kansas City, the skies were clear.
I was at the wheel for this city excursion. Kansas City brought lots of traffic and lots of crazy drivers. Shortly after entering the city roadways, I was honked at, cut off and flipped the bird. Naturally my defensive driving skills came to the foreground and I artistically bypassed my new roadway friend, held up my middle finger in his direction and outran his chase. It suddenly became very apparent to me how different roadways and driving are between the West and the East. Our Western travels brought long, empty stretches of roads with the sporadic car here and there. The left lane is actually used as a passing lane only. I don't think I had heard a car horn since Milwaukee. Jess and I agreed that heading back East was depressing and seriously considered just turning around and heading back to Bozeman or Jackson to live our lives in the calm, quiet mountains of the West. With this Western dream-life still buzzing in our minds we continued towards Olivette where Jess' cousin and his adorable family were waiting for us. Arriving as dusk covered the Missouri suburb we congratulated ourselves on mastering the 13 hour drive we set out on that morning. We retrieved our essentials out of the car and were warmly welcomed by our hosts. Once settled, we enjoyed a delicious home-cooked meal of marinated grilled chicken and corn on the cob. After dinner was finished and their adorable toddler was put to bed, us adults drank some wine, ate gooey brownies and played some rambunctious rounds of Spoons (a card game). To our delight the home was equipped with a record player and Jess and I sprinted to the car to retrieve our thrift store records from Colorado. As we enjoyed the music and the company, we told tales of our travels and agreed that this trip was one for the books, a trip that we were not ready to end.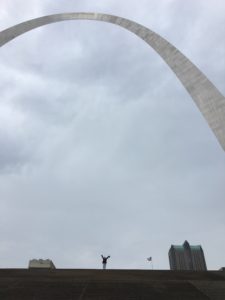 The next day we awoke to a rainy morning. Perfect for logging in some work before we hit the road again. Enjoying some delicious lemon poppyseed bread that was freshly baked for our arrival (yum!), we sat at the dining table with our laptops and typed away. Eventually we readied our suitcases and the three of us piled into the car and hit the road. The days destination: Louisville, Kentucky. Before heading there though, we needed to visit The Gateway Arch. From the start of mapping out our trip, I had insisted on visiting this landmark. An amazing architectural feat, I was excited to take in the scale of the structure in person. Let me tell ya, it did not disappoint. Larger than I could have ever imagined, The Gateway Arch is awe-inspiring. Constructed directly on the Mississippi River, it is truly the gateway to the West. Standing beneath its rounded underbelly, I gazed West and nostalgic memories of where we had just come from and the adventures we had sought out filled my heart with joy and appreciation. Glancing East, I looked towards our destination, the direction of my home and the direction back towards reality. As the rain droplets pattered on my raincoat, a raincoat that was gifted to me by my cousin Lauren, I outstretched my arms into the sky and treasured the journey that got me to this point. A journey that had filled me with life, adventure, and some amazing memories. Symbolically and geographically, The Gateway Arch was the crossing point of our journey. After leaving St. Louis, we would officially be back East.
Descending the steps, Jess and I got back into the car, in search of lunch before our drive to Louisville. Lennon, Jess, and I found a great pub for lunch. The Morgan Street Brewery had a very friendly staff, Lennon was a big hit. The food was fresh and the beer was delightful. We sat at a high top table, as Lennon got comfortable on the floor below us. We chatted with our server and after a relaxing lunch we got back into the car and headed towards Louisville, Kentucky.