July 31 – August 2nd, 2018
As we pulled up to our AirBnB and the car came to a full stop, Jess, Lennon and I were all pretty exhausted. With stiff legs and arms we stepped out of the car and all took a moment to stretch and take in our surroundings. We were staying in a quaint two bedroom in Clifton. The home had a retro-vibe and we were all happy to call this home for the next two nights. We took a moment to get comfortable and as our stomachs began to rumble with hunger we decided to shed our driving clothes and get dressed for dinner.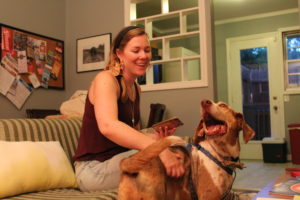 We headed towards Frankfort Avenue and ended up having a late dinner at The Champagnery. The space is bright and open, with tall ceilings and a mix of high and low-top tables. We chose to sit outside as the weather was warm and we wanted to take in the sights and sounds of Louisville. The menu consists of small share plates, oysters, and a mix of meat and cheese boards. To round out your meal, chocolate covered strawberries, macarons and a champagne cake are offered as a sweet treat. Jess indulged in a champagne tasting and I stuck to a rosé flight. As we sipped our libations and enjoyed our cheese board, we watched Louisville go by. We made friendly conversation with our waiter, discussing our road trip and what we should do tomorrow for our one full day in Louisville. Eventually we ordered a decadent round of chocolate covered strawberries to close out our meal and decided on a bourbon tasting for tomorrow's activity. After paying our bill we popped into a dive bar before we headed home. We sat at stools at the Hilltop Tavern and enjoyed beers on draft, listening to the locals chitchat and clinked glasses, toasting the journey we had accomplished thus far. As the night came to an end, we headed back to our 'home' and welcomed sleep after a couple long days of driving.
The next morning we popped out of bed ready for our distillery tour! We headed to Kentucky Peerless Distillery Co. and looked forward to our bourbon tasting. As we walked through the doors of Peerless Distillery which is located in a renovated warehouse the smell of wooden barrels came rushing towards us. There is something I find so peaceful about distilleries and wineries. The smell of old wooden barrels is a scent I love. I was suddenly calmed by the scent but I was excited for our tour as Louisville is known for their bourbon and I couldn't think of a better way to immerse myself into Louisville than a taste of bourbon straight from the source. Soon our tour guide came out and we were on our way to explore the distillery. Peerless Distillery is rich with history and familial heritage as the company has stayed affiliated with the Taylor family for five generations. After learning about the process of cultivating and making bourbon we were on our way to the tasting room.  Passing by huge stacks of barrels holding rye and bourbon we really got a sense of how much product this distillery creates.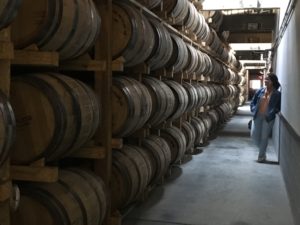 The tasting room was bright with large windows allowing lots of natural light in. The bar was thick and rustic with a cherry wood finish. The whole installation was edged with iron. I enjoyed the nod to the bourbon's home, the barrel. The wooden planks and iron edges complimented the wooden barrels so well. As we sat down with our tour group and we readied for our tasting I could see Jess was becoming a bit squeamish (I am the bourbon fan in the group) but she hunkered down and sipped all four of the bourbon tastings. A delightful surprise, paired with our four bourbon tastings was a chocolate bonbon!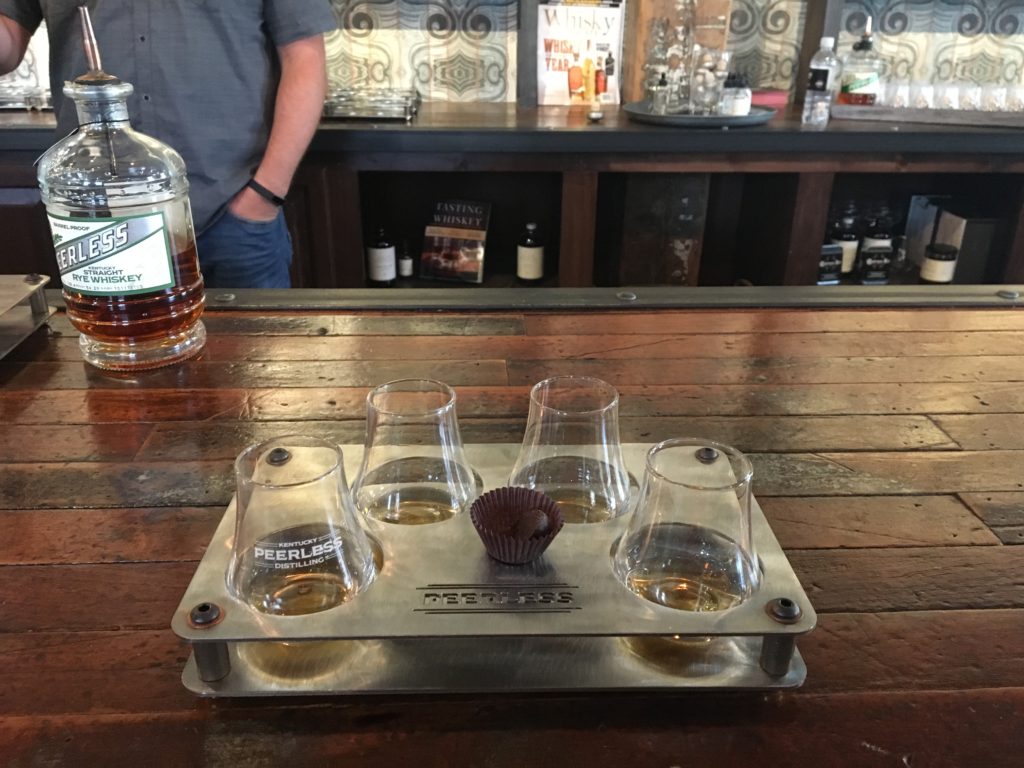 I suggest anyone wanting a distillery tour when visiting Louisville to head over to Peerless. The tour was informational, fun and not too long. The bourbon was delicious and the chocolate bonbon was a nice treat.
With a strong buzz in toe, we headed back into the foyer and purchased some gifts as memorabilia from our tour. We decided it might be a good idea to soak up some of the bourbon we just drank and asked our tour guide for a good lunch spot nearby. He suggested we grab a bite at Merle's Whiskey Kitchen so we headed to Main Street. Merle's has exposed brick walls, very tall ceilings and serves up southern soul food. Just what we wanted. Sitting at the bar we each split some wings ordered a beer and enjoyed chatting with our bartender about Louisville and our road trip. Both lively and quiet, Merle's was a great place for some upscale southern bar food with a nice ambiance and very friendly service. We finished our lunch, strolled around downtown a bit and then went back home to spend time with Lennon and ready for dinner.
After walking Lennon around the Clifton area we got dressed for dinner. This evening we dined at Proof on Main. Located in Louisville's Museum Hotel, Proof on Main is filled with art exhibitions that sprawl throughout their dining room. Beautiful and lively, the space is dynamic and funky. A haven for numerous artists to display their works. Multi-media works pop throughout the space with different colors and textures. The mix of artists and the subject of each piece made for a whimsical backdrop to our meal. In addition to the excellent and exciting interiors the food is local and delicious. The service was top-notch and the overall ambiance yields joyful sophistication. Since we were having a fancy dinner we decided to splurge and get fancy cocktails.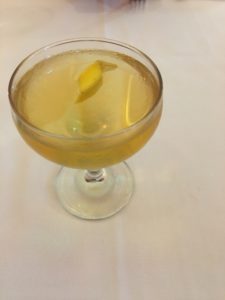 I decided on the Finial Ward which was the winner of the Bourbon Class: Best Classic Cocktail 2018. Living up to my expectations, my cocktail was light, delicious and pretty. We began our meal with bone marrow. The bones came out on a large board paired with flatbread and crudités. The marrow was so well done it simply oozed right off of the bone. The flavoring delicious and the appetizer decadent.  For dinner the obvious choice was pasta because, honestly, when is it not? I do not recall the name or ingredients of my pasta but I do distinctly remember the delicious taste and beautiful presentation.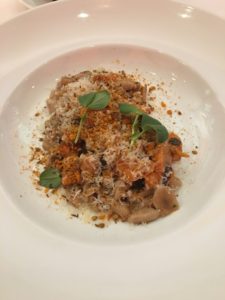 Fresh and light, this pasta was perfect to pair with my cocktail and later a glass of red wine. Jess and I toasted to our health and again to our adventure. We congratulated ourselves on the journey we had completed and commented on how we could not believe our trip was coming to an end soon. We discussed how Louisville has the nicest people and how excellent this restaurant was. After dinner we explored the Proof on Main bar and, following the art, eventually made our way into the Museum Hotel. The hotel lobby and public spaces, as one may have guessed, are more like a gallery than your typical hotel. Walking through the main lobby we admired the colorful artworks and ventured downstairs to continue our gallery walk.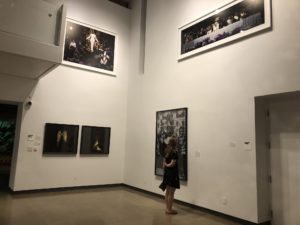 There were a number of rooms that displayed both artwork and videos. One room was bright with neon patterns and designs all over the walls and ceiling. The experience was full of culture. We were thankful to have stumbled upon this restaurant and hotel. It is always fun to experience surprises along a journey. Hearing that Proof on Main was a hip, artsy new restaurant in downtown Louisville we didn't quite know what was in store. After our fabulous cocktails and delicious meal the art walk was an extra bonus. We had learned from our travels that each city/town we stayed in had something unknown in store for us. Surprise gifts from the road trip gods. I am happy that Proof on Main and the Museum Hotel were one of those gifts. As a designer by trade I can faithfully write that art shapes society, it shapes our homes and it unlocks certain emotions within us that impact our souls. As this road trip was mainly a soul searching trip for me, I was thankful to Louisville for feeding my soul.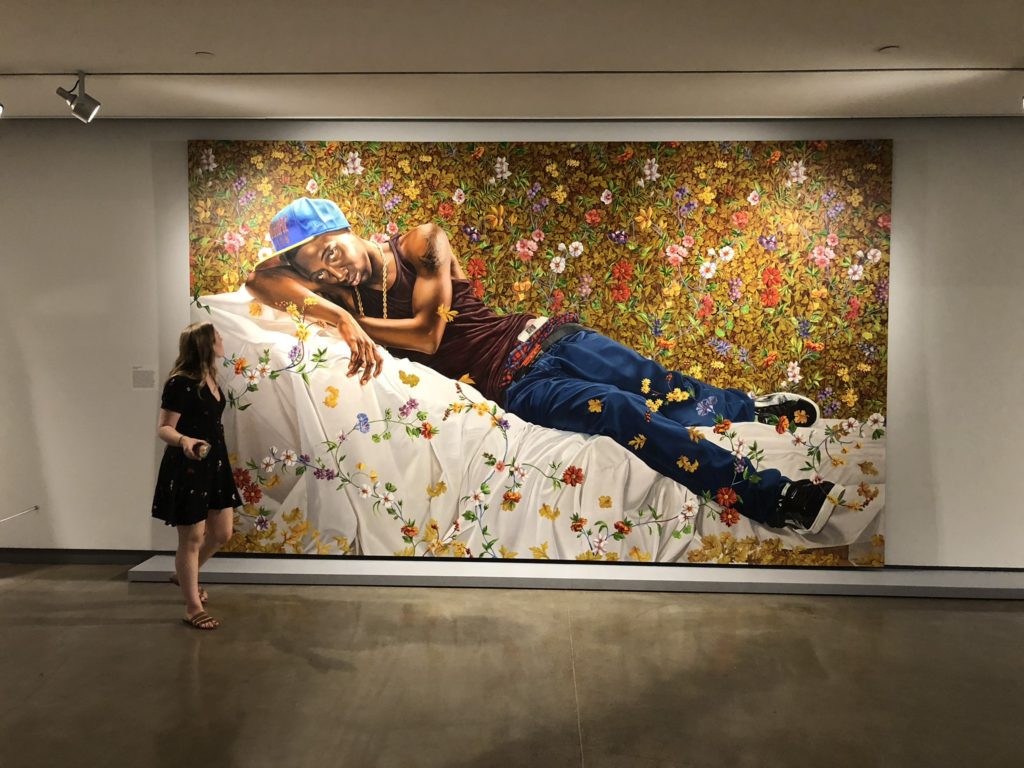 As we walked back up the stairs from the gallery at the Museum Hotel we decided we wanted to experience another form of art; music.
We strolled the streets of Downtown Louisville listening and looking for a live band. Asking some people on the street, we found Jimmy Can't Dance. This hidden jazz club is in the basement of Another Place Sandwich Shop.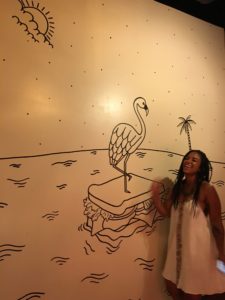 Another Place is a bright unassuming sandwich shop that has a friendly flamingo mural painted on one main wall. Walking down the stairs the lights dim and you are met with lively jazz music and a small stage packed with musicians. A cozy bar off to the side is lit by shaded pendant lights with fringed edges. At the back of the small club the leather banquette seating is lit by a neon sign that reads 'we're all animals'. Jess and I were ecstatic with our discovery! We secured banquette seating and joined the locals in speakeasy cocktails and good vibes as we grooved to the music and cheered on the band. Tapping along to the rolling jazz we clinked glasses again to our accomplishment of finding some music and toasted to Louisville which had kindly shared it's culture with us through bourbon, food, art and music. We returned to our AirBnB and reluctantly packed our cases and readied ourselves once more for the road. Our next stop: Washington DC.